€10835 to €16870 p/w
Bedrooms 6
Sleeps 12
Villa Bond is a stunning contemporary 6 bedroom villa with many extras in true James Bond style. Overlooking the Golf Course towards the sea. Private terrace and unique pool with beautiful water features, giving the occupants the sensation of being surrounded by water. This property can sleep up to 12 people. The award winning resort of Vale do Lobo offers a wide range of holiday fun: golfing, laying on the beach, mini golf, horse riding, fant...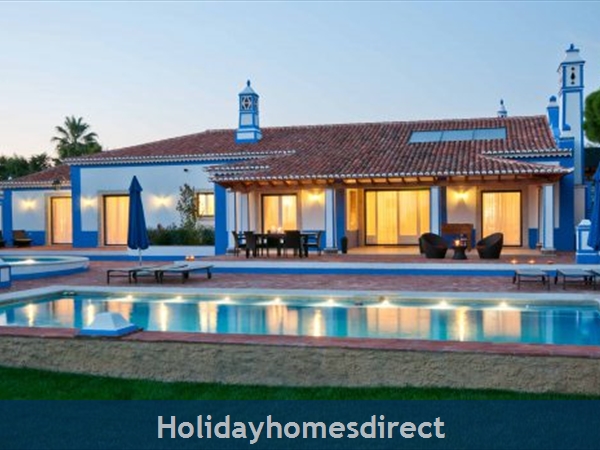 €880 to €5785 p/w
Bedrooms 6
Sleeps 12
Mirantos 1 is a spectacular villa with a five-star service. This grand villa with five bedrooms and one extra suite outside, is surrounded by beautiful landscape gardens and a delightful pool area with view to the sea. The private tennis court enhances this lovely villa, providing the ideal conditions for the perfect holiday. 2017 Rates Available, book now!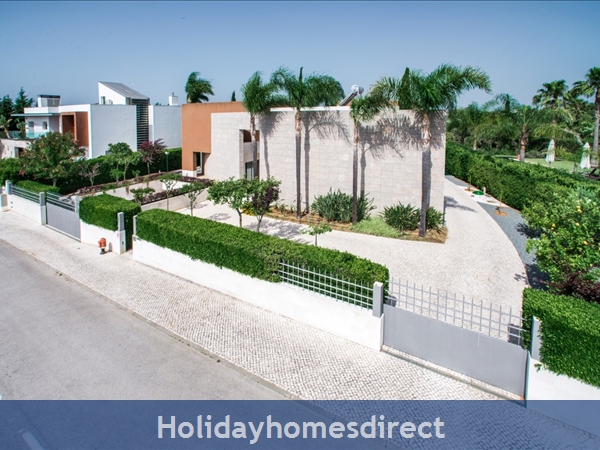 €2280 to €7220 p/w
Bedrooms 6
Sleeps 12
This contemporary villa is equipped to a high standard and enjoys a spacious and luxurious setting with spectacular views over the Laguna golf course. Located just five minutes from the beach and Marina.
€6653 to €17940 p/w
Bedrooms 6
Sleeps 12
A stunning 6 bedroom suite villa located in the heart of Quinta Do Lago, with superb views across Quinta Do Lago golf course. Superb large landscaped gardens and wonderful private heated pool.
€1500 to €2500 p/w
Bedrooms 6
Sleeps 14
***Portugal *** 6 double bedroom villa. Sleeps up to 14 people (also sofa bed) Private pool 37.105587, -8.237869  google coordinates
€1197 to €5211 p/w
Bedrooms 6
Sleeps 14
A Beautiful 6 bedroom air conditioned villa including a self-contained two bedroom apartment which enjoys a fantastic location only a REAL few minutes' walk from the Marina in Vilamoura. The villa is child friendly throughout with secure off street parking and a private pool/BBQ area. The location of the villa could not be more perfect as it is a short walk to the marina, shops, beaches and golf courses. Free wifi and air conditioning throughout.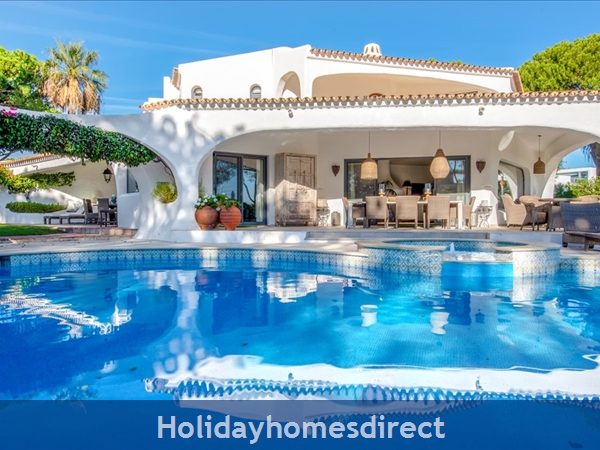 €4426 p/w
Bedrooms 6
Sleeps 12
We are delighted to represent Casa Papillon which is a spectacular 6 bedroom luxurious family villa with games room. This Moorish style property is located on a quiet position in the heart of the exclusive resort of Quinta do Lago. The villa is within easy walking distance of the boutiques, restaurants and facilities of Quinta Shopping.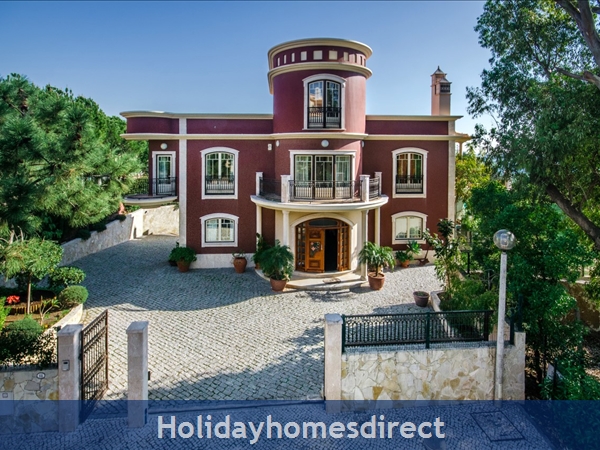 €4500 to €11080 p/w
Bedrooms 6
Sleeps 12
Situated just 3 minutes away from the beach at Praia da Oura and Praia dos Bicos, villa Santa Eulalia is built on a prime location in an elevated position with stunning views over the ocean. Located in an area of total tranquillity, but only a short distance from the bustling nightlife (restaurants and bars) of Albufeira.
€4700 to €11365 p/w
Bedrooms 6
Sleeps 12
Luxurious 6 bedroom villa located in Holiday Villa to rent in Dunas Douradas – 5 min walk from the beach Dunas Douradas within a 5 minute walk to the the beach. This property comprises of a spacious, open-plan lounge featuring a fireplace and direct access to the terraces and a fully fitted and equipped kitchen with breakfast bar. There are 2 bedrooms located on the ground floor, one of which is en-suite and both have access to the terrace. Th...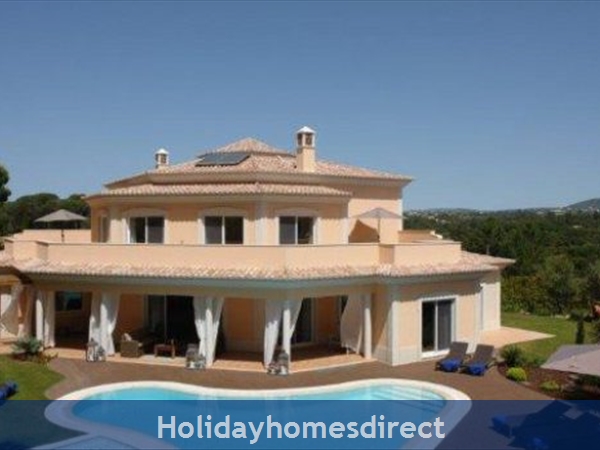 €4330 to €11570 p/w
Bedrooms 6
Sleeps 12
This lovely, recently built 5/6 bedroom villa (completed at the end of 2012), is located in Quinta do Lago, and is decorated to a very high standard.Excellent pool area highly recommended. Located in an ideal position within the resort of Quinta do Lago,walking distance to Quinta Shopping and Buganvilia Plaza, where you will find a great selection of fine restaurants, bars, shops, a nightclub, supermarket and pharmacy. The villa is located ...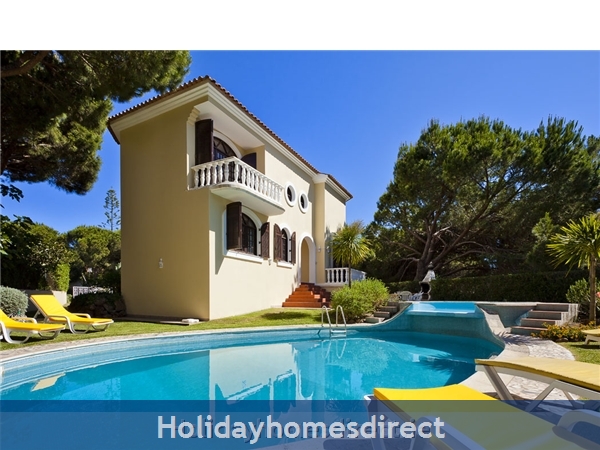 €2000 p/w
Bedrooms 6
Sleeps 12
Villa Regina Vilamoura 6 Bedroom Villa with private pool and air con Fantastic location in an exclusive residential area just 15 minute walk from the very heart of Vilamoura and in a perfect position to explore the bustling town, superb beaches, variety of shops, bars restaurants and lovely marina area. Ideal family villa for family and friends, 2016 rates and available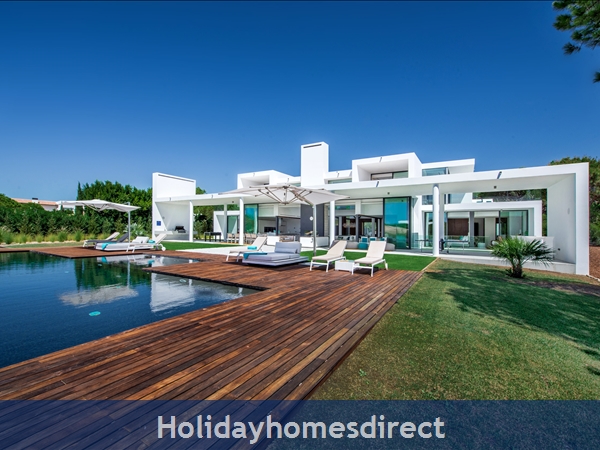 €6610 to €13590 p/w
Bedrooms 6
Sleeps 12
This spacious and modern 6 bedroom villa is located within a 5 minute drive from the Vilamoura Marina and surrounded by some of the Algarve's most renowned golf courses. The property provides a light and bright ambient as soon as you walk in through the main door. It comprises of an open plan fully fitted and equipped kitchen, dining room and a spacious lounge with a gas fireplace and a separate TV/snug area overlooking the exterior terraces. Als...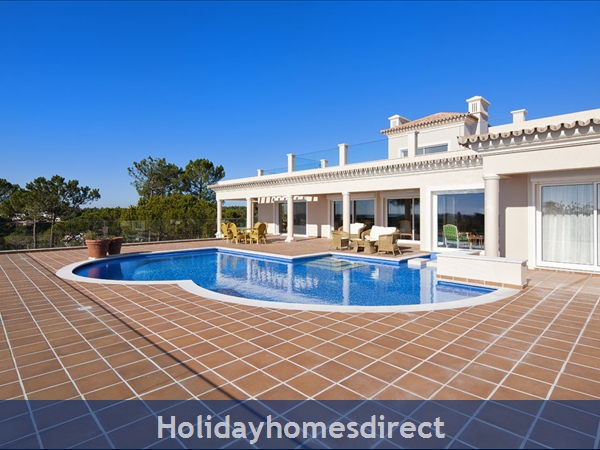 €4230 to €13780 p/w
Bedrooms 6
Sleeps 12
Villa Bellevue is a magnificent six bedroom villa, set on two large plots in the Salinas condominium within the prestigious Quinta do Lago Estate. This villa benefits from a spectacular position, with amazing nature reserve views and only a short walk away from the Quinta do Lago lake. As you go in through the main front door, you realize that the villa has an exquisite decoration. From here you can access different parts of the property su...