MARBELLA - Old Town Top Floor LUXURY studio with Stunning Sea-views, Just 2 mins. walk to Old Town or the Beach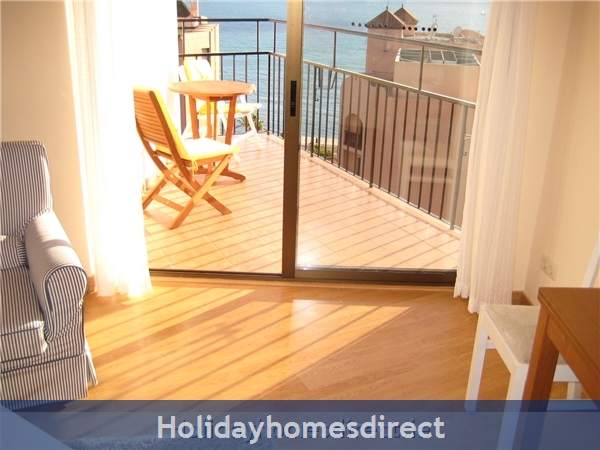 Type: Studio
Sleeps: 2 (0 Bedrooms)
Change Over Day: Flexible
Long term lets considered
Not suitable for small children
Non smoking only
suitable for the elderly
Winter lets available
Pets not allowed
Right In central Marbella this is a fantastic location close to Orange Square ( 5 mins walk) yet only two minutes walk from the beach. Located in Edificio La Tore de Marbella its elegant typically old Spanish architecture featuring wrought iron and cool marble floors is juxtaposed with the smart chic modern design of the Studio.

Our reception desk is manned 24 hours. Super location just 100 yards from the Avienda Ricardo Soriano (main street ) and the narrow romantic exciting cobbled streets leading to the Old Town, Church and Orange Square. You will find yourself so close to everything in Marbella. It is ideal for shopping trips, golfers or for a totally relaxing sun and beach holiday. You will delight in being so close to the heart of Marbella, the wonderful designer shops, smart restaurants and all the many attractions of Marbella.

You will find it it fully equipped and wonderfully comfortable. Air-con, Cable TV, dishwasher etc. It is the ideal base for a totally relaxing holiday with no need whatsoever for a car. We have provided everything we think will enhance your experience and ensure you have a truly enjoyable stay. (Please read our guest reviews for their independent comments).

Just a short taxi ride or walk along the promenade and seafront to Puerto Banus.
This smart, chic apartment is fully equipped with all mod cons. Hot/Cold Air conditioning making it cosy even in the winter. Bright comfortable living-room off where there is a separate sleeping area . Bathroom with super size shower. Fully equipped kitchen, dishwasher etc. Please see Guest Reviews posted by previous guests to see what a gem this is!!
Images of Marbella - Old Town Top Floor Luxury Studio With Stunning Sea-views, Just 2 Mins. Walk To Old Town Or The Beach
Marbella Area
Marbella is famous for its beautiful Old Town with narrow winding streets, designer shops , romantic restaurants and the stunning Orange Square. We are located near the Park just off Avendia Richardo Soriano and the beach is just 100 metres away.
Suitable types of Holiday Marbella
Fishing
Golf Course
Horse riding
Tennis courts
Water Park
Watersports
Sailing
Diving
Swimming
Walking
Surfing
Waterskiing
Windsurfing
Exterior Details
Stunning sea views from the lovely south facing terrace with teak outdoor furniture.
Guests can purchase a Day Pass to the El Fuerte Hotel Leisure center across the road, Swimmingpools ( one is heated) tennis etc.
Exterior Facilities in Marbella - Old Town Top Floor Luxury Studio With Stunning Sea-views, Just 2 Mins. Walk To Old Town Or The Beach
Interior Details
Two single beds which can be made up as a kingsize if you prefer.
Facilities in Marbella - Old Town Top Floor Luxury Studio With Stunning Sea-views, Just 2 Mins. Walk To Old Town Or The Beach
Air conditioning
Cooker
Dish washer
Fridge
Hairdryer
Internet access
Kettle
Linen provided
Microwave
Television
Toaster
Towels provided
Sleeps a Maximum of 2 people:
Guest Book
October 2015 5 star review
So good we have already booked for next year!
We spent a lovely 3 weeks here in October/November 2013. The flat is small but easily adequate for the needs of two. It is very clean and well maintained. The reception staff are welcoming and helpful. The balcony and big window are a major feature letting you wake up in the sunshine every morning and providing a place for a lazy dose in the afternoon. Facilities in the flat are good. There is a decent sized fridge with freezer section; four ring hob, and a microwave with halogen - i.e. you can roast things in it if you want. There is a small dishwasher... so get powder rather than tablets as they will be too big. I have stayed in Marbella many times and find this location great - a couple of mins from the beach and a block from the old town. You are spoiled for choice with many excellent restaurants and bars within a few meters. Even an Indian if you feel inclined. Make sure you don't miss having an afternoon on the beach with some grilled fish, a salad and a bottle of wine. Sheer bliss. There are many good fish restaurants - one of our favourites is "La Paella" on the shore. In the old town, the clams and mixed fish at "Bar Altamirano" are worth a try. Local facilities are good. There is grocery just next to the entrance, and excellent jamon shop, and a small supermarket at the end of the street. More than enough for everyday needs. There is also a serviced laundry at the entrance (Rosy) which does a great job and gives you a nice break from washing. For those in need of an internet fix... the place with the barrels at the corner has free wifi. The Mercado Municipal is about 10 mins walk at the west of the old town. it has an excellent range of fresh fish, meat and vegetables and is well worth a visit if you fancy some superb Spanish beef. Closes at 3pm so get there early. And if you have some spare pocket money there is a cobbler making lovely hand made moccasins at the end of the street. Worth going just for a look at the craftsman working. Overall an excellent well located flat which I heartily recommend to everyone. Our holiday was so enjoyable that we have already booked again for a longer period next year.
Septmeber 2013 5 star review
Super little studio flat ideal for two people. Great views and excellent location. handy for both the beach and the old town. This was our second visit, the first in May 2012 and this time September - the weather was perfect on both occasions.


We have just returned from this wonderful apartment. we have been coming to Marbella for many years and this location is the best we have every stayed in. We hade everything we needed in the studio. We were thrilled when we opened the door it was more spacious and luxurious than the photos indicate.
The airconditioning kept us comfortable even on the hottest days . We found the beach club in front excellent , we rented sunbeds everyday and had lunch there a few times. We had dinner at home on two nights, sitting on the terrace watching the boats return to the marina,m the kitchen is fully functional , we had everything we needed.
We found the owner helpful and it was very easy to make the booking arrangements. We would recommend it to anyone and fully intend returning frequently as it is rare to find such good value in Marbella.

Just home after staying in this beautiful little apartment and we absolutely loved it. It has been newly renovated and re-decorated to the highest standard with air-con. and has a beautiful sea view. The kitchen is compact but has everything one would need.Its location is right in the centre of Marbella only minutes from the sea front and the old town. These apartments have 24 hr reception with helpful staff especially Juan who has excellent english. We would highly recommend this little gem of a studio and we will definately be back. Maria and Joe from Ireland


This was the perfect place to stay for a beach holiday
The apartment was bijou, immaculate and had everything in it that you could possibly need
It was only 2 minutes from the beach and local gym, and the views from the balcony were great.
I would defiantly stay here again.
R.S. London

Modern, fresh and compact apartment which really is two minutes from the beach and two minutes from the main bars and restraurants in Marbella's old town. The location is perfect and if you are wanting to travel to other nearby attractions this is a perfect base as there are taxis and the main bus link just round the corner.
The decor and the facilities of the apartment are modern and the property was clean and well maintained.
i would recommend this property to a friend. Harvey from Glasgow


We stayed in the studio in early July and I think we were probably the first guests as all pots & pans were still wrapped in polythene. The studio was just as described, yes it is bijou, ie small, but it is modern, clean, comfortable, quiet, with excellent facilities - especially the aircon. It is perfect for a couple who want to be in easy walking distance of the beach, the promenade, bars, restaurants, shops (from designer outlets to good supermarkets), the old town, lovely parks etc. It is quite feasible to make snacks in the kitchen area, there is an electric hob & microwave, but no oven. However there are lots of eating out options nearby and we found we could eat well and interestingly by going for tapas without spending a fortune.
Being on the 9th floor there are great sea & town views from the balcony which was just within my comfort zone.... I'm not overly fond of heights.
The reception staff (24hr) were all friendly and helpful and one speaks excellent English. I would definitely recommend this studio to friends. This was our third time in Marbella, but our first stay in this studio and we will definitely consider making a return visit.
Cardiff, Wales, UK

Lovely apartment, spotlessly clean, great balcony. Location couldn't have been better, so near the beach and nightlife. Cannot recommend the best place to eat as they were all good. Especially the Tapas bars. Date of stay-Sept 2010

Thank you for your wonderful place. Superb location. We would love to return and hope to do so one day. We had a great holiday
Date of stay-Sept 2010

Excellent apartment in a perfect location, just right for the perfect holiday. This is our 5th visit to Marbella and definitely the best accommodation. With the hot sunny weather the air conditioning on at night ensured we were able to sleep. I would definitely recommend and use this apartment again.
Date of stay-June 2010

We enjoyed our stay, what a brilliant location..2 minutes to the beach and only a short walk to the fascinating old town
Date of stay-June 2010

One word.......Excellent...excellent....sorry thats two
Date of stay April 2010

Idyllic studio in a lovely corner of Marbella. Five star experience..perfect for sundowners on balcony. Let us know when you want to sell!!!
Date of stay-March 2011

We had a wonderful time last week and were very happy and impressed with your apartment. We enjoyed perfect sunsets viewed from the balcony! We found the reception staff very pleasant. You certainly do have a gem there and my wife has already recommended it to several people
Date of stay-Feb 2011
Note: Please note that we are private owners with properties in Mojacar and Marbella Spain for which we are Licensed with the Spanish Tourism Authority. Which is now a LEGAL REQUIREMENT.

All our Dublin properties are Registered with and Approved by the official Tourist Board.

Guest satisfacion is of paramount importance to us and our large number of repeat bookings are due to our ongoing investment and commitment to providing extremely well presented, thouroughly clean, well equipped properties.
To reserve the apartment we require a deposit of just 50% of the rental , the balance is not then due until 6 weeks prior to your arrival date. Payments can be accepted in Sterling or Euro and can be made by Cheque or Bank transfer or PAYPAL whichever is most convenient for you.

Utilities, VAT,TAXES, Final Cleaning, SKY, WIFI etc .ARE ALL INCLUDED
rates quoted per week but we are happy to offer a winter discount for over 3 weeks.
We request a seperate payment of 100euro which will only be cashed in the event of actual damage or excessive cleaning being necessary. As we are unable to offer refunds please ensure you have taken out Holiday Insurance Cover

Please note the apartment will be available for occupation after 3pm on day of arrival and must be vacated by 11am unless by specific arrangement
we are happy to offer a discounted rate for any rental of over two weeks duration
Bank Holidays carry a 50 euro surcharge
6th October to December 17th
18th December to 5th Jan 2019
6th January to 29th March 2019
30th March to 26th April 2019
27th April to 1st June 2019
2nd June to 29th June 2019
30th June to 27th July 2019
28th July to 21st September 2019
22nd September 2nd November 2019
Prices may be subject to change at the owner's discretion.
Loudervoice Reviews
Powered by LouderVoice and LouderYou
Similar holiday homes with 0 bedrooms in Costa Del Sol area View more...
Other properties by this owner
Need any holiday ideas?
Looking for different types of holiday?