Villas In Costa Del Sol
Costa del Sol
Beaches, Family Fun and Some of the Best Food in Spain
Are you looking for a holiday that has it all? From beaches to wildlife parks, and restaurants to marinas; the Costa del Sol is a destination that offers fun for the whole family. If you're planning the perfect holiday for you and your kids, the Costa del Sol is a great place to base yourself.
Family-Friendly Beaches
When planning a holiday in the Costa del Sol, the main attraction is undoubtedly the beaches. With over 320 sunny days per year and hundreds of beaches to choose from, it's no surprise that the area is a favourite for families looking for some fun, sand, and sun.
As a parent, the main things that you're looking for when choosing a beach holiday destination is safety, convenience, facilities, and fun. So, with that in mind, we've compiled a list of the top three beaches to visit as a family in the Costa Del Sol:
1.Playa Real de Zaragoza (Marbella)
If you're based in Marbella, then the best beach to visit with your family is Playa de Zaragoza. The wide, open beach with its fine golden sand is the ultimate destination for families. The beach is always immaculately clean, and there are toilets and showers available. And, during high season, there are always lifeguards on duty, which mean a couple of extra pairs of eyes helping you keep your children safe.
You don't have to arrive fully prepared for a day at the beach either; there are many different restaurants and kiosks to order food and drinks from and it's easy to rent a sun lounger and umbrella for the day. And to sweeten the deal, the parking area is very close to the beach.
2.Playa Malapesquera (Benalmadena)
If your children are a bit older, Playa Malapesquera is a great beach to base yourself at as there are beach football and volleyball areas set up, as well as many different water equipment options for rent including kayaks. This beach is particularly popular for water sports.
The beach is 700 metres long, which makes it easier to find an open patch of sand to set up, and there are sunbeds and umbrellas available to rent. Then , once you've had enough time on the beach, it's an easy ten-minute stroll back into the town where there are many different restaurant options for a light lunch or early dinner.
3.Playa El Cristo (Estepona)
If you're in Estepona, chances are you'll spend most of your time on Playa El Christo, the best beach in the area. The beach is west-facing making it sheltered from the wind on most days. With dark sand and shallow water perfect for paddling safety, it's not surprising that El Christo is popular with both tourists and locals with small families. This blue flag beach is conveniently located next to the marina and offers ample close parking for easy access to the beach. It has a lifeguard on duty during the summer months to help you keep your children safe while they play in the water.
Family Fun
If you've had enough of beaches and want to do a bit more exploring, there are hundreds of family-friendly activities to choose from, including:
1.Biopark Zoo (Fuengirola)
The Biopark zoo in Fuengirola is a well-designed zoo with tigers, crocodiles, snakes, gorillas and more. Spend a morning learning about the different animals as you explore the different cages and exhibitions.
2.Paloma Park (Benalmadena Costa)
If you happen to be in the Benalmadena area, Paloma Park is a 'must-see.' The park is 200 000 m2 with beautiful gardens and a large lake in the middle. Located in the centre of town, it's the perfect place for children to run around, enjoy the climbing frames and slides and feed the fish and the turtles. As you explore the park, you'll find many different animals roaming freely, including hens, chickens and peacocks, as well as rabbits and hares.
3.Selwo Marina (Benalmadena Costa)
You'll find Selwo Marina located next to Paloma Park in central Arroyo de la Miel. It's the only Dolphinarium in Andalucía and one of the Costa del Sol's most popular attractions. With dolphin and sea lion shows, penguins and up-close dolphin encounters, Selwo Marina is not to be missed.
4.Selwo Aventura Wildlife Park (Estepona)
This is the largest wildlife park on the Costa del Sol and is an amazing place to discover some of Asia and Africa's most interesting animals in the wild.
5.Sealife Aquarium (Benalmadena Marina)
The Sealife Aquarium in Benalmadena Marina is a perfect place to spend a morning or afternoon learning about jellyfish, sharks, turtles and more. It's a great way to escape the heat of the day enjoying the peaceful, majestic animals of the sea.
Local Food
Whether you're looking for local delicacies or something more traditional to remind you of home; you'll find it in the Costa Del Sol. But, if you've had your English breakfast for the day and are looking to branch out, these are three local meals that you must try:
1.Gazpacho
A summer holiday in the Costa del Sol isn't complete without Gazpacho. At the temperature outside continues to rise, gazpacho is the one meal that will help you cool down. It's a cold soup with tomato, cucumber, garlic, onion and pepper as a base; topped with bread, olive oil, and vinegar.
2.Gambas al Pil-Pil
Treat yourself with a local, delicious prawn dish on your holiday in Costa del Sol. Gambas al pil-pil are prawns served in a spicy sauce that contains garlic, paprika, chilies and white wine. It's traditionally cooked in an oven-proof dish and served piping hot straight out of the oven.
3.Arroz con Leche (Nice Rice)
To finish off, why not try Andalusia's interpretation of rice pudding. Served cold with cinnamon, this is the perfect way to end a meal (or enjoy as a sneaky mid-afternoon treat!)
If you're planning a trip to the Costa del Sol with your family, there's a lot to look forward to. Basing yourself in Marbella, Benalmadena or Estepona close to one of the top family beaches is a good place to start, and from your base, it's easy to explore more of what the Costa del Sol has to offer. And when you need a break from the beach, treat your kids to an outing at Paloma Park, Sealife Aquarium, Selwo Marina or Wildlife Park or the Biopark Zoo. Then to end off your day, sample some of the top local delicacies that the region has to offer, you won't be disappointed!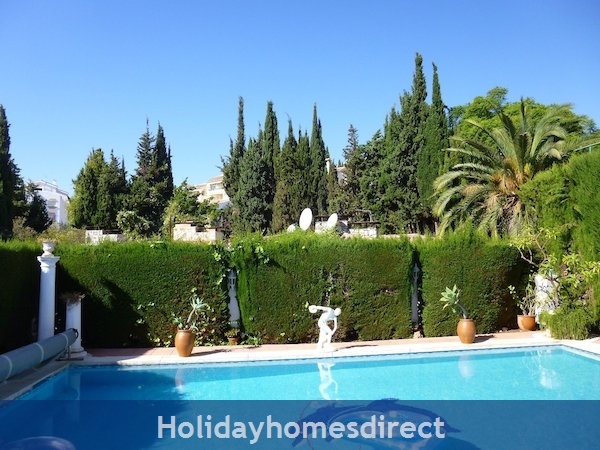 €895 to €1795 p/w
Bedrooms 4
Sleeps 10
Four bedroomed luxury villa with private swimming pool. (10m x 5m) Bedroom 1 (upstairs) Double bed and en suite Bedroom 2 (upstairs) 2 Single Beds and en suite Bedroom 3 (upstairs) 2 Single Beds. Bedroom 4 (overflow bedroom downstairs with air conditioning) 1 Double and 2 Single Beds. (Garage conversion) Main Bathroom (upstairs) with bath and shower. WC (downstairs) Kitchen with American serve-over bar. Dining area and lounge area with ai...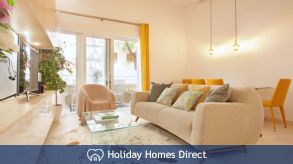 €445 to €1165 p/w
Bedrooms 2
Sleeps 5
This is a completely renovated first floor, two-bed apartment, designed by a Scandinavian interior designer with your holiday stay comfortable and calm in mind. It is tucked away on a beautiful tree-lined and sunlit walkway in the heart of downtown Marbella's exclusive shopping area between the famous Avenue Ricardo Soriano street and Calle Alonso de Bazan street which are peppered with well-known and popular traditional Tapas bars, restaurants, ...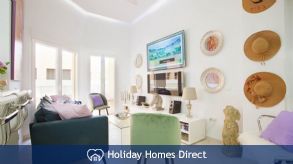 €445 to €1165 p/w
Bedrooms 2
Sleeps 4
NEW TO MARKET: This is a completely renovated first floor, two bed apartment, designed by an Irish interior designer with your holiday stay comfort and calm in mind. It is tucked away on a beautiful tree lined and sunlit walkway in the heart of down-town Marbella's exclusive shopping area between the famous Avenue Ricardo Soriano street and Calle Alonso de Bazan street which are peppered with well-known and popular traditional Tapas bars, restaur...
£850 to £5100 p/w
Bedrooms 6
Sleeps 15
Puerto Banus Romantic Luxury Villa, Sea Views, Hot Tub Jacuzzi, Hotel Size Private Pool with diving end. ATTENTION - JULY 1st through July 8th 2020 is still AVAILABLE at a special price offer if reservation is made this the week of Febuary 22nd to the 29th. September through November are also available for reservations. We allow short stays of 3 to 4 nights from Mondays to Wednesday or Thursdays at very reasonable prices for part of the villa o...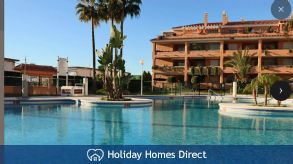 €560 to €1050 p/w
Bedrooms 2
Sleeps 6
2 Bedroom, 2Bathroom apartment in the lovely village of La Cala de Mijas, in Costa del Sol, which stretches along the southern coast of Spain. A first class tourist destination enjoying sunshine most of the year. With over 60 golf courses it is also known as Costa del Golf. Malaga which is one of the oldest cities in the world and steeped in history is also the capital. There are hundreds of cultural and leisure activities available. Whether...
€550 to €800 p/w
Bedrooms 2
Sleeps 6
Spacious 2 bed ground floor apartment in gated community with manicured gardens & Uninterrupted Panoramic views to the Mediterranean sea. Short walk to beaches & marina of Cabopino.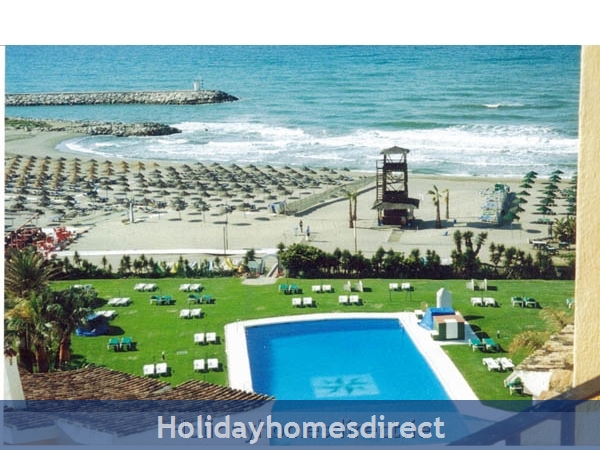 €490 to €825 p/w
Bedrooms 2
Sleeps 4
This is a luxury gated 2 bed front line fully air conditioned townhouse, leading onto a pretty plaza. Two minutes will take you to a beautiful garden with sun lounges and umbrellas with a huge pool with life guard and attendant who will bring sun lounges and umbrellas. There is also a childrens pool. From this garden, through a security gate will take you onto miles of golden sand & 3 beach restaurants which are highly recommended. Enjoy the mil...
€650 to €1200 p/w
Bedrooms 2
Sleeps 4
Lovely 2 bedroom, 1 bathroom, spacios and bright living-dinning area, fully equiped kitchen. Satelite TV, Aircon, WIFI, Lovely outdoor space with private swimming pool, BBQ and mountain views, only 500 mts from Burriana Beach.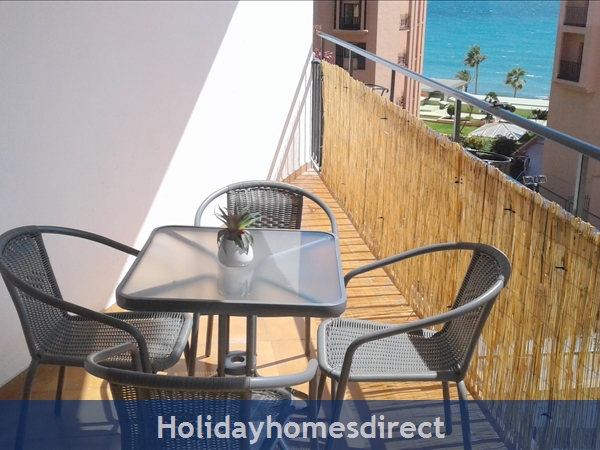 €700 to €900 p/w
Bedrooms 2
Sleeps 4
OLD TOWN and beach super location ! with SEAVIEWS from your sunny terrace FREE WIFI, UK AND RTE TV. AIRCON. 24 HOUR RECEPTION. This luxurious privately owned newly renovated stunning 2 bedroom designer apartment is in a super central location! 2 minutes walk to beach - 4 minutes walk from Old Town. Fully approved and licensed. 24 hour reception ( guests always comment on their friendliness and helpfulness) Air-Con ( hot and cold), ...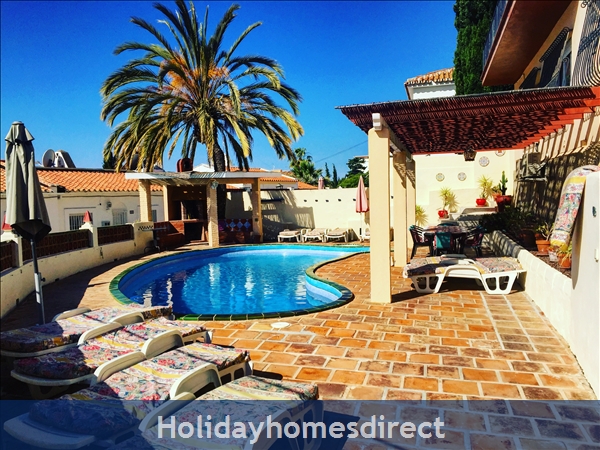 €955 to €2000 p/w
Bedrooms 4
Sleeps 10
Luxury 4 bedroom villa with private swimming pool and 500 mts from Burriana Beach.
€600 to €1395 p/w
Bedrooms 3
Sleeps 7
This property is right on Burriana beach, just footsteps from the sea. Casa Alamar has amazing sea and mountain views from the terrace and BBQ area. The urbanization also has a community swimming pool. This villa is located on Burriana beach, and walking distances to the old part of Nerja, the location is perfect.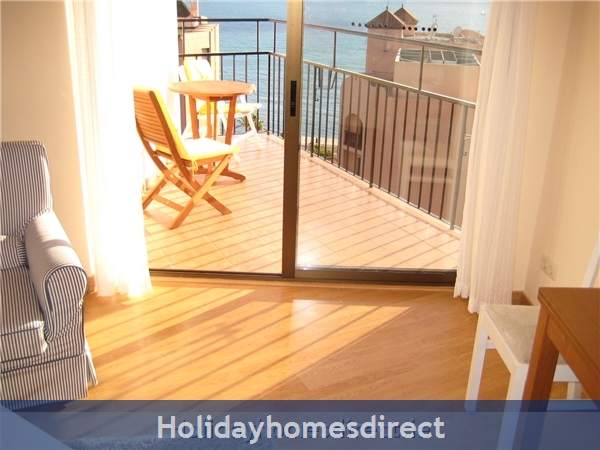 €300 to €650 p/w
Bedrooms 0
Sleeps 2
LOCATION ! LOCATION !! A wonderful oportunity to stay in the heart of Old Marbella . Just a 5 minute stroll from Orange Square or 2 minutes walk to the beach ( in front of the El Fuerte Hotel ) this stunning interior designed studio is a gem. Designed with guest comfort and satisfaction on mind . It is spacious with fabulous Sea-views from the south facing terrace which is ideal for sunbathing or sun-downers!. Numerous guests return year af...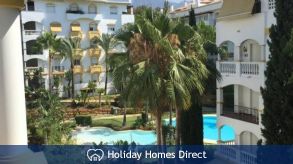 €500 to €750 p/w
Bedrooms 2
Sleeps 5
Los Pinos de Naguelles, Golden Mile , Marbella-Puerto Banus, Costa Del Sol A beautifully situated two-bedroom apartment with sea view in a secure urbanization with gardens, swimming pool, tennis, children's playground. Underground car parking space. 15 mins walk to the beach. Located on golden mile between Marbella and Puerto Banus. Served by buses, shops restaurants, and bars within an easy walk. 20-minute walk to Marbella central. Marbell...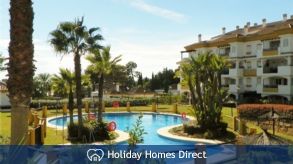 €650 to €850 p/w
Bedrooms 3
Sleeps 6
Located on the famous Golden Mile, this Marbella apartment comprises of an entrance area, a fully fitted kitchen with laundry room, contemporary living/dining room ,air-con, free WIFI ,3 bedrooms, 2 bathrooms, master bedroom is en-suite (with smart t.v) , large double and twin room sharing family bathroom, all bedrooms have generous built in wardrobes , large balcony with awning. 24hr security gated complex , tennis court , communal gardens & po...