Villas In Vilamoura
Vilamoura Resort, Quarteira, Algarve, Portugal
The bustling, sophisticated Vilamoura Resort is built around its marina and is conveniently located a short distance west of Faro in the Algarve. The area offers some of Portugal's top hotels, restaurants and golf courses that are highly regarded internationally, along with a range of different activities including tennis, horse riding, sailing, windsurfing, boat trips and more.
Vilamoura Resort is the name given to an area, rather than any specific town, and is one of the largest single tourist complexes in Europe.
Planning a visit to Vilamoura Resort? Then don't miss:
The Marina
The world-class Vilamoura Marina was recently awarded International Marina of the Year 2019/2020, by The Yacht Harbour Association Ltd and is the largest in Portugal with 1300 berths. The water is surrounded by a luxurious hotel, upscale dining and shopping opportunities and the harbour itself is home to a dazzling array of luxury yachts.
Golf Courses
Vilamoura Resort is the perfect base for exploring the area's six challenging golf courses. Courses include the unmissable championship Victoria Golf Course, the Millennium Golf Course, the Pinhal Golf Course, Vilamoura Old Course and the Laguna Golf Course. The 27-hole Vila sol Golf Course is also attached to the resort.
Restaurants
With options to delight every palate, the restaurants in Vilamoura do not disappoint. Top choices include the glamourous Moon Restaurante & Cocktail Lounge, the effortlessly stylish Cafe del Arte and the sub-continental favourite Haweli Indian Restaurant.
Things to do
There's no shortage of things to do once you step off the area's stunning Vilamoura, Quarteira, Falesia and Forte Novo beaches. From the ancient Roman ruins at Cerro da Vila and the 17th-century church at Almancil to the medieval castle at Loulé, there's are many cultural highlights to explore in the area. Or, if you're travelling with children, don't miss the Aquashow Park, a theme park packed with fun water-based activities.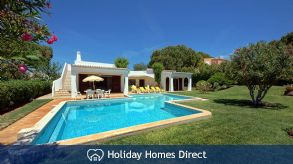 €860 to €1990 p/w
Bedrooms 3
Sleeps 6
Villa Torneira is a detached three bedroom property, located in a quite area of Vilamoura, only a short drive away from golf courses, restaurants, the famous Vilamoura Marina and shops. Set on one level this property has a U shape where on the left side of the villa is the accomodation and on the right handside there is the social areas such as the living/dining room and kitchen. The common areas benefit from a cloakroom. The kitchen is ...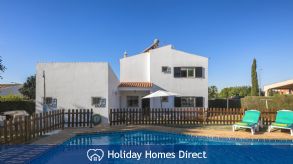 €700 to €2000 p/w
Bedrooms 3
Sleeps 6
Casa Mestre has a large fenced and tiled swimming pool, with sheltered outside living area complete with BBQ, and a lovely large well maintained and secluded garden. It is just a few minutes away from the famous Old Course of Vilamoura. For the non golfers, only 5 minutes drive away are all the amenities and life at the marina including the casino, restaurants, bars, and shops.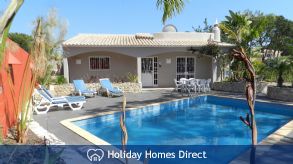 €663 to €1870 p/w
Bedrooms 3
Sleeps 6
Vila Rosa is a lovely private villa, all on one level, and located in a quiet and rural setting yet not far from the centre of the popular town of Vilamoura where you can find all the usual amenities of a resort. The villa itself has just been completely renovated and re furnished and now offers excellent value. It is well equipped and provides comfortable accommodation for up to 6 people. It is fully air-conditioned. Reference: P02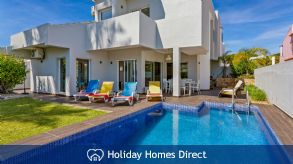 €700 to €2400 p/w
Bedrooms 3
Sleeps 6
This 3 bedroom property is located in a nice and residential area of Vilamoura, between the Old village and the Hilton Hotel. Within walking distance you can find a few nice restaurants, bars some shops and a supermarket. The little road train passes near this property which in a pleasant way to get to the beach or the centre of Vilamoura if you would rather not walk or drive. It's an older but comfortable villa as the current owner is constantly...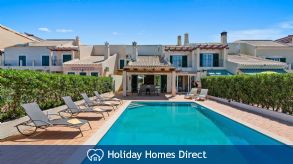 €1190 to €2250 p/w
Bedrooms 3
Sleeps 6
Beautiful 3 Bedroom / 2 Bathroom house located near "Browns" health club and the Old Course golf clubhouse in Vilamoura. This beautiful house offers comfort and space with garden and terrace area offering a private swimming pool.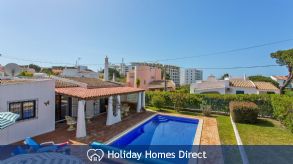 €807 to €1912 p/w
Bedrooms 3
Sleeps 6
Delightful 2 +1 Bedroom / 2 Bathroom detached, one level villa with private, heated, south-west-facing swimming pool set within a large fenced plot with lawns, off-road parking and fruit tree garden. The lounge and dining areas open up to a covered terrace by the pool and built in BBQ area. The villa is air-conditioned in the living room and the 2 main bedrooms for your comfort. The location is perfect for a relaxing holiday and as it is just a s...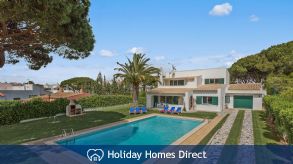 €1035 to €2550 p/w
Bedrooms 3
Sleeps 6
Casa Pinheiro is a beautifully maintained, very spacious 3 bedroom detached villa located in a quiet, residential area of the popular family resort of Vilamoura, lending itself perfectly for family holidays. The villa is comprehensively equipped offering everything you would need for a family holiday including a beautiful lawned garden and very large swimming pool. The villa is approx. a 20-minute walk from the marina with its lively atmospher...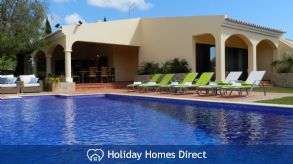 €1220 to €3220 p/w
Bedrooms 3
Sleeps 6
This is a lovely, spacious 3 bedroom single-story villa located in a residential area just behind Browns Sports Club. It has a large private pool and generous size area of lawn gardens with mature trees and shrubs with a staircase leading to the roof terrace. This villa is exceptionally well-maintained, has been tastefully furnished to a high standard and together with the quiet and peaceful location, offers clients the perfect holiday villa. I...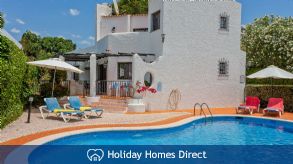 €1062 to €2500 p/w
Bedrooms 3
Sleeps 6
Beautiful 3 Bedroom / 3 Bathroom detached villa with kidney shaped private swimming pool and gardens. Located in a quiet residential area of Vilamoura 'Le Club' walking distance to marina and all amenities. Reference: P02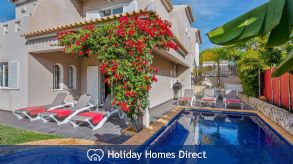 €1100 to €2750 p/w
Bedrooms 3
Sleeps 6
Villa Marina is a well-equipped 3 bedroom/2 bathroom semi-detached villa which has just recently been completely renovated to an extremely high standard and would be perfect for a family holiday. It is situated in a quiet residential area of Vilamoura, not too far from all amenities. There are shops, bars and restaurants close by in an area called the Old Village or alternatively towards the Hilton hotel resort. The Marina with its lively atmosph...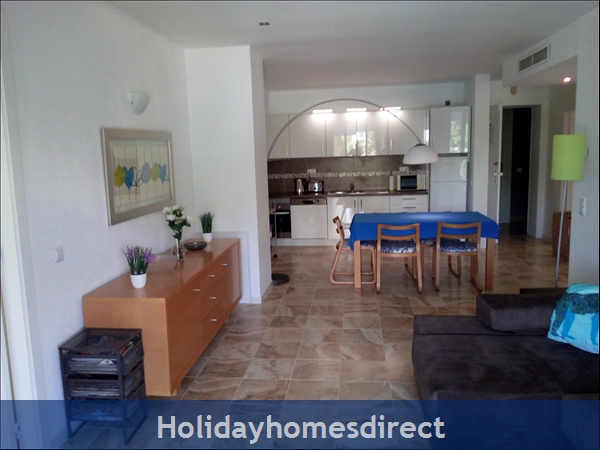 €1120 to €1400 p/w
Bedrooms 3
Sleeps 6
Luxury 3 bedroomed air conditioned apartment 400 metres from the beach an a few steps from Vilamoura Marina.