4 Star Apartment: Exclusive, Idyllic, Close to Nature, Pool, South France Coast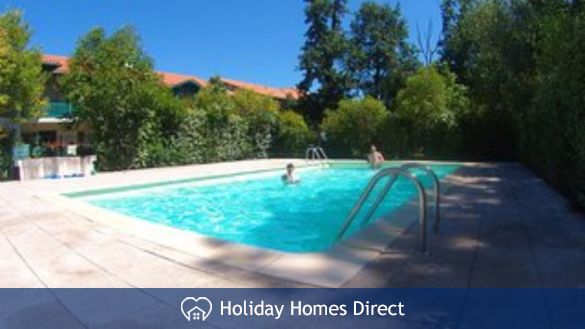 Type: Apartment
Sleeps: 8 (3 Bedrooms)
Nearest Beach: Capbreton (0.5 km)
Change Over Day: Flexible
Long term lets considered
Owner will consider house swap
Non smoking only
Pets considered
suitable for children
suitable for the elderly
Winter lets available
IN RESPONSE TO THE CORONAVIRUS (COVID-19), ADDITIONAL SAFETY AND SANITATION MEASURES ARE CURRENTLY IN EFFECT AT OUR APARTMENT

Chez Ann Marie is a High Quality Apartment offering idyllic, self-catering accommodation in the South West of France, near Biarritz in an exclusive development with shared private pool in Capbreton - a traditional and picturesque French seaside town and fishing port near Biarritz on the Cote D'Argent (the Silver Coast). The accommodation sleeps up to 8 people. It is in a unique location in Capbreton between the ocean and the forest. It an ideal place to relax and enjoy the wide range of leisure, sport, surfing and recreational activities of the locality. It has been awarded 4 Star quality status by the Landes Tourist Office.

Capbreton is a small town of around 7,500 people on the Southern coast of the Landes region (Landes Cote Sud) in South West France, close to Biarritz and the Pays Basque, the Spanish Border and the famous Basque cities of San Sebastian and Bilbao. Capbreton is in many ways the perfect holiday destination with its mix of nature, water, beaches, forests, the port, the traditional French town and a very mild climate all year round. The apartment is an ideal choice for family holidays to the South West of France or for surfing in nearby Biarritz. The surf in Biarritz is hugely popular and as Biarritz is the surfing capital of Europe, there are plenty of surfing schools nearby.

Four Star First Floor Apartment (Type 3, 78 m², 3 bedrooms) in the Residence Le Clos de la Chenaie (Field of the Oaks) overlooking the swimming pool, the river, the gardens and the oak trees. South facing. Tranquil and calm environment, but the town centre is less than a 10 minute walk (a few minutes by car) and the beach a 15-20 walk (less than 10 minutes by car). The apartment is fitted out to a very high standard and has a wide range of facilities included. Includes an integrated cooling and heating system and air conditioning. Extra services are also available and can be purchased separately. It is a perfect base to relax and enjoy the beauty and many activities of the magnificent surrounding area.

Now included - Basic Starter Pack for the kitchen/bathroom plus two bottles of local wine to welcome you.
Images of 4 Star Apartment: Exclusive, Idyllic, Close To Nature, Pool, South France Coast
The Aquitaine Dordogne Region
There are many other attractions within easy striking distance of Capbreton, which are suitable for day-trips, including:

* Biarritz, Bayonne, St Jean de Luz and the Basque Country - only 20 minutes
* Rural Gascony with its traditional and slow pace of rural French life
* Northern Spain including the Spanish Basque cities of San Sebastian and Bilbao
* Spa and Thalassotherapy centres which the region is famous for
* Many inland lakes where you can also bathe
* Pyrenees less than 1 hour away and Lourdes less than 2 hours away
* Pamplona and running with the bulls an hour and a half

Biarritz Area
Capbreton and the Sud Landes area around it is dominated by a landscape of ocean, lakes and the famous pine forests, making it an ideal place to relax and enjoy a wide range of leisure, sport and recreational activities.

The Town – Capbreton has the characteristics of a typical French town of the Landes region with its old buildings, town square, church, shops and markets. What makes it so attractive to visitors is its unique combination of beaches, port, promenade, shops, restaurants, real French ambience and things to do – something for people of all ages and interests. Although it is a seaside resort with many activities for those who want them, it remains truly French and unspoiled and you can be on a quiet beach or in the pine forests in minutes.

The Port – There has been a port in Capbreton for many centuries. The large sheltered port now there is the only marina on the Landes coast and the largest along all of the Cote d'Argent, with almost 1,000 berths and provides a very attractive uniqueness for Capbreton.

The Beaches – Capbreton is famous for its beaches. There are 7 kms of them of two kinds – the central beach with its promenade, bars and hotels on the sea front and the rest to the South, very private and unending with sand dunes and the pine forests merging with the vast Atlantic Ocean – nature unspoiled.

Surfing – Surfing is a big affair in Capbreton, Hossegor and the surrounding area due to the ideal waves and water conditions. The area is a regular venue on the international competition circuit and there are also numerous surf schools in the town.

Sites to See and Events – There are many things to see and do in and around Capbreton. These include the old church built in 1539, free visits to the Port, walk on L'Estacade built by Emperor Napoleon III – the 190 metre pier with lighthouse and symbol of Capbreton, see the house of King Henry IV (Maison du Rey), the marine ecomuseum and aquarium, walks along the ocean, the forests, the river Boudigau using walking paths, cycling on the cycle tracks, Hossegor lake, canal and the lake oysters. There is also a rich Landais folklore heritage to be discovered and interesting sites and places to be experienced including a range of festivals and fetes, watching or playing the Pelote Basque (a unique racket ball game) and the Course Landaise (bull fighting in Acquitaine where the cow does not die).

Sports and Leisure – There are many activities in and around Capbreton to choose from.
* Beaches * Golf – 5 mns Hossegor
* Surfing & Surf Lessons * Tennis – Club & Parcs des Sports
* Diving & Diving School * Football – Parcs des Sports
* Wind Surfing * Basketball – Parcs de Sports
* Sailing * Billiards/Snooker
* Sea Kayaking * Archery
* Canoe and Rafting * 10 Pin Bowling
* Boat Hiring * Boules/Petanque
* Sea Fishing * Handball & Pelote
* Fishing * Judo & Karate
* Horse Riding * Walking
* Go Karting * Cycling
* Quad Bikes * Beach Club/Swimming Lessons
* 4 x 4 Hire * Discos
* Skate Park * Casino
* Aquatic Parks


There are tennis courts, a hardcore football pitch, a basketball court and a court for Pelote at the Parcs des Sports. The ski stations in the Pyrenees are only 1 hour away for winter skiing. There are also many thermal spa/thalassotheraphy centres within an easy drive of Capbreton.

Restaurants – Capbreton is blessed with an abundance of good restaurants to suit all tastes along the seafront and Promenade and in the town itself. As you would expect in a fishing port, fish and seafood feature highly on the menus but not at the expense of other dishes. Prices are reasonable and very good value – in places you can get 3 course menus for €13/14.

Shops – There is a wide range of traditional French shops in the town centre and along the promenade as well as specialist shops e.g. surfing. There is also a daily open air fish market and a Sunday market as well as markets in Hossegor during the holiday season.

The Climate – Capbreton has a mild climate all year round. Day time temperatures are normally in the 20s from April onwards, rising to a Summer average of a comfortable and enjoyable 26-30°C and remain in the 20s until into October. When it does get hot, you have the benefit of the refreshing breeze from the Atlantic. It remains very mild right into November and the early Spring months and even in December and January seldom falls below 10°C. This makes it a place to enjoy all year round – in all seasons.

AUTUMN/WINTER/SPRING – SPECIAL ATTRACTIONS

Ø Golfiing – Access to 8 outstanding Golf Courses within a one hour radius. The local club is Golf d'Hossegor – around a 15 minute walk
Ø Surfing – Capbreton and Hossegor are all year round locations for surfing in the best surf waters in Europe
Ø Cycling – Relax and unwind along the cycle paths by the rivers and in the forests
Ø Walking – In the forests, along the rivers and in the Pyrenees
Ø Skiing – in the Pyrenees. The nearest resorts are Formigal at Auritz in Spain (100 kms), Les Chalets d'Irati near Larrau (130 kms France), Issarbe and Arette la Pierre St Martin south of Arette (140/150 kms France), Gourette, France (150 kms France)
Ø Spa/Thallasotherapy – Dax is the official spa capital of France and is only 35/40 minutes from Capbreton. There are numerous thermal health spa centres along the Côte Basque, including Hendaye, Biarritz and St Jean de Luz where you can have a spa on the beach.
Ø Rugby Biarritz – Enjoy watching one of France's leading rugby teams, 20 minutes away
Ø Good Food – The South West of France is renowned for its high quality food, especially fish and seafood
Ø Rest and Relax – Recharge your batteries when the high season is over in calm and tranquil surroundings of the ocean, forests and nature
Ø Mid Term Break and School Holidays – an ideal place for a short break

With a mild climate all year round and cheap flights in the off peak seasons, Capbreton and Chez Ann Marie is the perfect location to enjoy all these relaxing and renewing activities at any time.

For more information please see

Tourism South West France www.touradour.com/TOWNS/capbreton/CAPBRETO.HTM
Office de Tourisme Capbreton www.tourisme.fr/capbreton/e-index.htm

Getting There
Capbreton is easily accessed by air from Ireland, the UK and France, as well as other parts of Europe, through Biarritz (20/30 minutes), Bordeaux (11/2 hours), Pau, Toulouse and Bilbao. Ryanair flies in and out from Ireland - Dublin 3 times weekly (more frequently in Summer); and from London Stanstead daily. There are also flights from Copenhagen, Stockholm, Paris, Nice, Marseilles.

By ferry and then motorway all the way: four hours from Santandaer in Spain with Brittany Ferries and four hours from La Rochelle. Also accessible from Roscoff and Cherbourg - 7 hours on motorway.

You can reach it by ferry from Ireland to France (Rosslare to Roscoff and Cherbourg three times a week, Cork to Roscoff once a week) and the UK to France (Roscoff, Cherbourg, Caen and St Malo) and Spain (Santander and Bilbao). It is also well served by road (A 63 motorway) and rail routes.

This makes Capbreton very accessible and suitable for shorter as well as longer breaks, especially in the Autumn/Winter/Spring seasons. All the major car hire companies operate at Biarritz airport. Taxis to apartment Euro 45/50.
Nearest Travel Links
Airport: Biarritz (20 km)
Ferry: Bilbao (152 km)
Railway: Bayonne (15 km)
Rental Details
A Welcome Pack is provided on arrival. A local representative will meet you and is available to answer any questions or deal with any problems, as well as a person to carry out any essential repairs. Now included - Basic Starter Pack for the kitchen/bathroom plus two bottles of local wine to welcome you.

A non refundable 25% deposit is payable by online bank transfer within 7 days of making a reservation to secure the booking, with the balance due one month before the start of your visit. A security deposit of €500 is payable by online transfer along with the second payment of the balance of the rent. This is returned two weeks after your departure, if there is no damage and the exit clean has been undertaken, subject to satisfactory inspection by the local agent. Pets are allowed by agreement. No smoking allowed in the apartment.
Suitable types of Holiday Biarritz
Fishing
Golf course is on site or within 15mins walk
Golf Course
Horse riding
Tennis courts
Water Park
Watersports
Sailing
Mountain Biking
Diving
Swimming
Walking
Surfing
Waterskiing
Windsurfing
Hill Walking
Cultural holiday
Wine tasting
Local cuisine
Relaxation
Exterior Details
The apartment overlooks the shared private pool, the gardens, the old oak trees and the river, which provides a very welcoming and relaxing environment. A dedicated covered parking space is provided, as well as exterior visitor parking. A locked garage is availaible, which can also be used for storage of surfing, skiing and other equipment.
Exterior Facilities in 4 Star Apartment: Exclusive, Idyllic, Close To Nature, Pool, South France Coast
Balcony/Terrace
BBQ
Parking space
Secure parking
Shared garden
Shared outdoor swimming pool
Interior Details
The residence has been built in typical Landaise style and with Landaise charm to blend with and complement the environment but with contemporary design aspects. The internal layout and décor reflect both elements, with extensive use of wood and a high ceiling over the Living Room/Sejour. The luxury apartment is equipped to a very high standard as it has been internally designed and fitted out by the owners, who use it for their own holidays.

The accommodation inside the apartment is on two levels – Level 1 includes the entrance, the living room, the balcony, kitchen, the terrace and the Master Bedroom with King Size bed. Level 2 is accessed by stairs from the Living Room/Sejour. The great advantage of this area is its flexibility. By means of a folding wall, it can be used either as 2 bedrooms, or as one bedroom and a second living room/sejour at the same time, or made into one large bedroom with its own living/sejour area where you can relax privately. Extra equipment/facilities include 40" Flat Screen LCD TV in Living Room – with DVD & French, UK, Irish, European Satellite Channels,SKY Sports and SKY Movies, Surround Sound Hi-Fi/TV, TVs in Master Bedroom and Bedroom 2, Computer & Wi-Fi Broadband Internet Access, Balcony Table/ Chairs & Sun Loungers, Set of Boules, Board Games, Books, sandwich maker, clothes line and airer and ironing board.

The following extra services can also be purchased: Cleaning, Personal Laundry, Chauffeur, Shoppping and Childminding.
Facilities in 4 Star Apartment: Exclusive, Idyllic, Close To Nature, Pool, South France Coast
Air conditioning
CD player
Central heating
Clothes dryer
Cooker
Dish washer
DVD player
Freezer
Fridge
Hairdryer
Highchair
Internet access
Iron
Kettle
Linen provided
Microwave
Television
Toaster
Towels provided
Washing machine
Bedrooms / Bathrooms
Bedrooms (3)
Bathrooms (2)
Ensuite (1)
Showers (2)
WCs (2)
Sleeps a Maximum of 8 people:
Double Beds (2)
Sofa Beds (2)
Cots (1)
Furniture
Dining Seats (8)
Lounge Seats (6)
Note: LATE SPECIAL OFFERS:

JULY 2019: 31 July - 3 August, 3 Nights €199 pn

JSEPT WEEKS FROM - FROM €650.

2019 - Prices held at 2009 level.

Great Facilities included worth up to €150 per week: linen, towels, wi-fi broadband, air con, washing machine & tumble dryer unlimited use, SKY/SKY Sports & SKY Movies.

CONTACT OWNER ON 00447840585930

Now included - Basic Starter Pack for the kitchen/bathroom plus two bottles of local wine to welcome you.

Prices may be subject to change at the owner's discretion.
Loudervoice Reviews
Powered by LouderVoice and LouderYou
Need any holiday ideas?
Looking for different types of holiday?