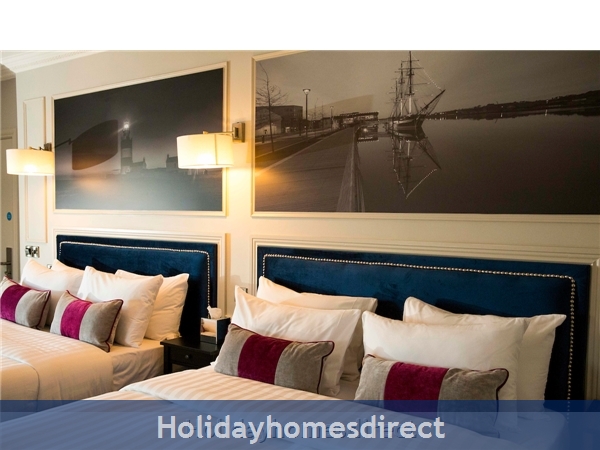 Type: Apartment
Sleeps: 4 (1 Bedrooms)
Change Over Day: Flexible
Best Rate Guarantee Book directly with us and you can be confident you are getting the very best available rate. No Fees –No hidden charges when you book directly on .

We get to know what you like and we try our best to look after your special requests. Our in-house team get to know you and you have a direct relationship with us, which means as a regular guest we can ensure everything is ready for your arrival, just how you like it.

Free Cancellation – Up to 2pm day prior to arrival We understand that sometimes plans change, so for this reason all customers booking directly on www.kennedyboutiquehotel.com enjoy the luxury of free cancelation up to 14.00 the day before arrival. Bookings cancelled after this time will be charged for their first night's stay.



Guest Bedrooms

Each guest room at has been designed to deliver all the luxury, comfort and convenience our guests expect from a Boutique Hotel . Our beds, linens and towels have all been chosen to offer the highest standards for our guests, as this is what they have come to expect. All guest rooms offer a welcome gift, expresso machine, multi-channel TVs and free unlimited Wi-Fi

CAFE & BARISTA BAR
Our café and Barista Bar is open seven days a week offering an exciting Café, Tapas, and Wine Bar Menu at affordable prices. Unwind and enjoy while our highly qualified chefs and waiting team make your visit to our Café & Barista's Bar a memorable one every time.
Experience our unique, laid back ambience for yourself in the heart of New Ross while taking in the view of the River Barrow. Breakfast, lunch, afternoon coffee, freshly baked cakes, homemade soup and toasties! – we have it all. We are commitment to our customers, providing them with locally sourced, good quality food served in a warm and welcoming spacious environment.

Whatever the occasion for your visit, our café is an experience you won't want to miss.

Our café is open from 8am – 9pm daily, serving Tapas an Pizza every night from 6pm – 9pm

Serving the finest coffee in the south east!!

CAFE MENU

THE FINEST COFFEE IN THE SOUTH-EAST
Images of Kennedy Boutique Hotel
The Wexford Region
The Wexford Region
New Ross has seen a big increase in tourism in the last few years. New Ross has now become one of the top tourist attractions in the sunny south east.

Steeped in history, Patrick Kennedy the great grandfather of John F Kennedy was born in New Ross which lead to John F Kennedy been the first ever American president to visit Ireland in 1963 where he visited his ancestral home. Kennedy himself referred to his Irish visit as "the best four days of my life". The Kennedy homestead sees thousands of people walk through it every year and in 1968 Eamon de Valera opened the JFK memorial Arboretum and park to commemorate the late US President J.K Kennedy.

The town's arts centre is St Michael's Theatre. The building was built in 1806, eight years after the insurrection of 1798. St Michael's has a 300-seat theatre, a 50-seat studio venue, an art gallery, a 3D digital cinema. It hosts art exhibitions, musicals, shows matinees every Saturday and arthouse films are screened in seasons.

Just 3 minutes' walk from St Michael's theatre you can set sale on the Dunbrody Famine Ship and go back in time to 1894. The Dunbordy famine ship is a full size, ocean-going recreation of the actual timber-built ship, which played a leading part in the 19th century emigration to the USA. Your tour-guide will reveal to you the realities of life on the notorious 'Coffin Ships'.


New Ross Area
New Ross Area
If you like stepping back in time then a guided tour of the Hook lighthouse is a must for all history fanatics. Built 800 years ago, the lighthouse is now the oldest operational lighthouse in the world. Humpback and fin whales often visit the waters around Hook Peninsula which has a wealth of beautiful beaches. That famous phrase 'by hook or by crook' is to believed to have originated from the Hook. Who new!!

Loftus Hall is a large mansion house on the Hook peninsula. It is said by locals to have been haunted by the devil and the ghost of a young woman. By taking a tour of the hall, you will learn the history of the hall through the ages and you will be a part of re-enacting the famous card game with the dark stranger that was the origination of The Legend of Loftus hall!

Dig deeper into history of the surrounding areas and discover Norman New Ross through the eye of a needle at Ros Tapestry. Ros Tapestry is a unique project which involves over 150 stitches working on 15 very large tapestries. It is one of the largest series of embroidered tapestries in Europe. Each tapestry depicts a different significant event in the history of the New Ross. As quoted by Susan Cross 'A tale of romance, bloodshed and great alliances'.

Moving from Ros tapestry art work you can visit the remanding Norman ruins of St Mary's Abbey. William Marshall and his wife Isabella developed the town of New Ross and founded St. Marys Abbey. St Marys was considered to be the largest parish church built in medieval Ireland and houses one of the largest collections of medieval funerary monuments found in the country. If your interest is in abbeys Dunbordy and Tintern abbey are a scenic drive away from New Ross town.

New Ross has so many hide gems, it will take your breath away. With quirky and fashionable shops, cafes and the newly opened Kennedy Boutique Hotel there is something for every tourist.
Suitable types of Holiday New Ross
Fishing
Golf course is on site or within 15mins walk
Golf Course
Horse riding
Tennis courts
Water Park
Watersports
Sailing
Mountain Biking
Skiing
Diving
Swimming
Walking
Surfing
Waterskiing
Windsurfing
Hill Walking
Cultural holiday
Wine tasting
Local cuisine
Relaxation
Exterior Facilities in Kennedy Boutique Hotel
Parking space
Secure parking
Facilities in Kennedy Boutique Hotel
Air conditioning
Central heating
Hairdryer
Iron
Kettle
Linen provided
Telephone
Television
Towels provided
Safe
Bedrooms / Bathrooms
Bedrooms (1)
Bathrooms (1)
Showers (1)
Sleeps a Maximum of 4 people:
Midweek Rate per night
Weekend Rate per night
Prices may be subject to change at the owner's discretion.
Loudervoice Reviews
Powered by LouderVoice and LouderYou
Similar holiday homes with 1 bedrooms in New Ross, Wexford View more...
Similar holiday homes with 1 bedrooms in Wexford area View more...
Need any holiday ideas?
Looking for different types of holiday?