€460 to €1250 p/w
Bedrooms 2
Sleeps 5
Located on the sunny west coast of France just 18kms from the historic port of La Rochelle, the Duplex is one of four self catering holiday gites set around a country farmhouse surrounded by fields. With many onsite facilities including heated swimming pool, games room, games field and trampoline it is an Ideal place for families with children of all ages. Meubles tourism 4 star rating 2015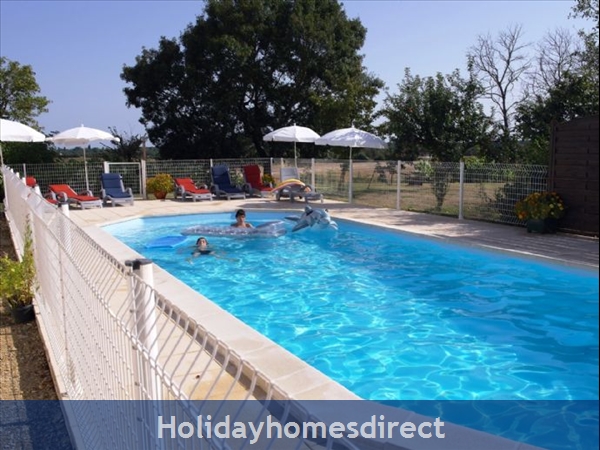 €400 to €800 p/w
Bedrooms 1
Sleeps 4
Located on the sunny west coast of France just 18kms from the historic port of La Rochelle, the Puce is one of four self catering holiday gites set around a country farmhouse surrounded by fields. With many onsite facilities including heated swimming pool, games room, games field and trampoline it is an Ideal place for families with children of all ages. Meubles tourism 3 star rating 2015
€820 to €1685 p/w
Bedrooms 2
Sleeps 6
La Chouette (the Owl) is a spacious, two bedroomed gite, sleeping 6, perfect for families and friends Bel Air gites provide a comfortable, family-friendly holiday home-away-from-home. The perfect choice for families . We've created a safe and fun haven for children and toddlers, so they can play and you can have a stress-free holiday. On site we have a fully fenced , heated pool, a playground and and indoor play barn. A discount code can b...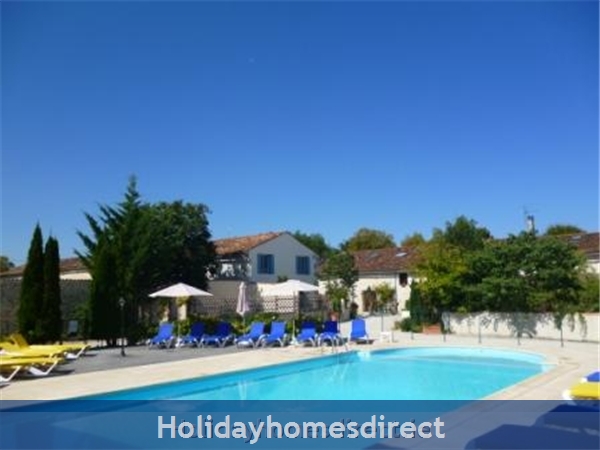 €500 to €1665 p/w
Bedrooms 3
Sleeps 6
Our prices include everything you would expect at a hotel, including: Linen, towels, cleaning, access to all activities on the complex. Accommodation from 2 - 6 people. All the gites are newly decorated and have quality furnishings and comfortable beds! Kitchens are fully equipped and each cottage has its own terrace area with BBQ, table, chairs and parasol.
€450 to €600 p/w
Bedrooms 3
Sleeps 6
Le Sureau is one of two charming 3 bedroom gites set on the outskirts of the village of Angliers just a short drive to La Rochelle, Ile de Ré, Marais poitevin and the lovely beaches of Chatelaillon and Fouras. Situated close to the west coast it offers some of the best weather in France and within easy walking distance there is a restaurant/bar and bakery.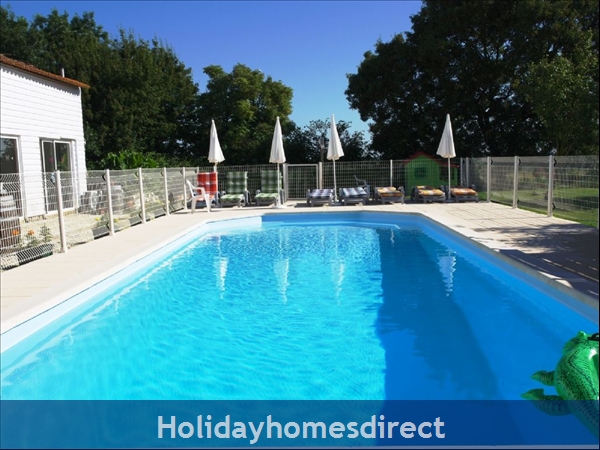 €700 to €1900 p/w
Bedrooms 4
Sleeps 8
Located on the sunny west coast of France just 18kms from the historic port of La Rochelle, the Maison is one of four self catering holiday gites set around a country farmhouse surrounded by fields. With many onsite facilities including heated swimming pool, games room, games field and trampoline it is an Ideal place for families with children of all ages. meubles tourism 4 star rating 2015